Two Iconic Works Fetched a Combined Total of $107,205,000 at Auction – Now Transcending Art with a Digital Renaissance on ElmonX
London, United Kingdom, Monday, 27th March 2023 — ElmonX, the trailblazing force in the NFT sector, is set to redefine the art world once again with the imminent release of Vincent van Gogh's timeless masterpieces in 3D and Augmented Reality format.
This groundbreaking initiative transforms the classics "Meules de blé" and "Cabanes de bois parmi les oliviers et cyprès" into ultra-exclusive NFTs (Non-Fungible Tokens), elevating the artistic experience by merging tradition with the cutting-edge blockchain era.
ElmonX's illustrious track record includes NFT releases of iconic works such as the Mona Lisa and Salvator Mundi by Leonardo da Vinci, The Starry Night by Vincent van Gogh, Nymphéas by Claude Monet and renowned artists like Patrick Hughes and Schoony, among others.
About "Meules de blé" and "Cabanes de bois parmi les oliviers et cyprès"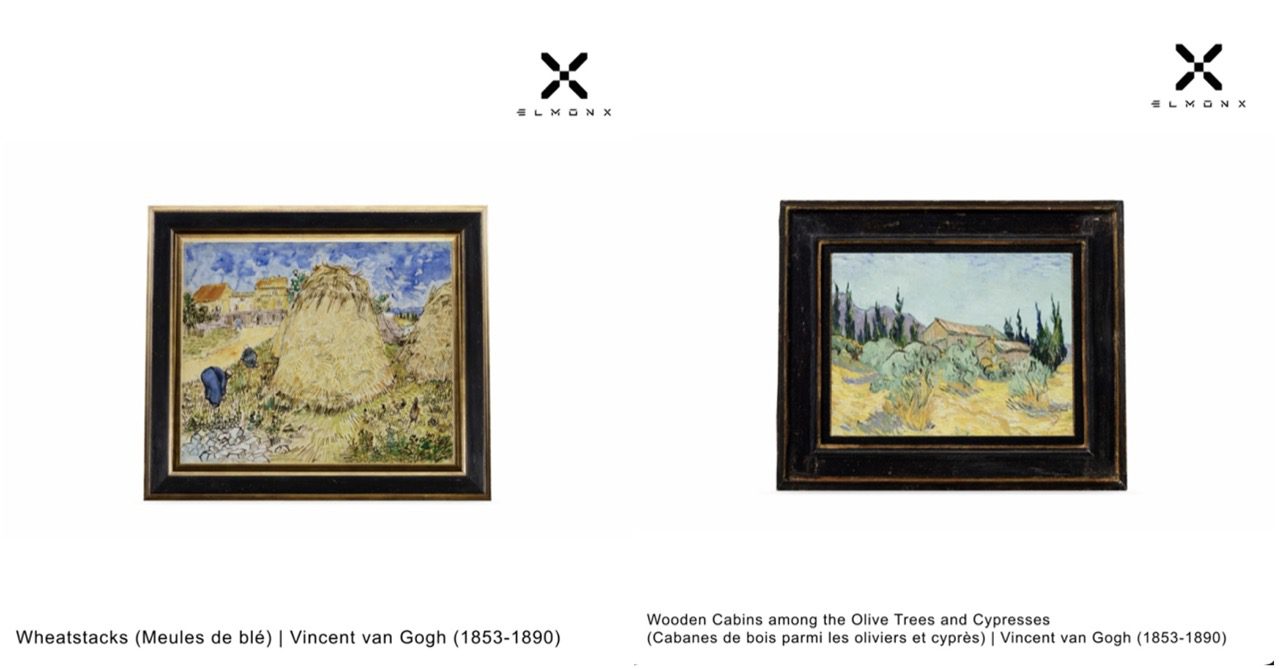 "Meules de blé" (Wheat Stacks), painted in June 1888, captures van Gogh's vibrant depiction of a Provençal harvest scene, marking the pinnacle of his artistic brilliance. The series, influenced by Japonisme, showcases his revolutionary fusion of bold lines and vivid color, symbolizing a deep connection to farm life.
In "Cabanes de bois parmi les oliviers et cyprès" (Wooden Cabins among the Olive Trees and Cypresses), painted during a period of recovery in October 1889, van Gogh immortalizes the sun-drenched Provençal landscape. The painting reflects his mature style and profound connection to the vibrant landscape, offering a glimpse into the artist's struggle and resilience.
Release Details 
Public Sale: Friday, 1st Dec 11AM PT
Price: £90.00
Editions: 248 (per collectible)
Available: Globally at ElmonX.com
ElmonX – Pioneering the NFT Renaissance
Formerly known as Vtail, ElmonX specializes in licensed NFT art, merging artistic excellence with technological innovation. Their team of skilled artists and designers creates visually stunning and technologically advanced pieces that redefine the boundaries of the art world.
Partnering with Bridgeman Images, ElmonX secured permission to bring these van Gogh masterpieces into the NFT realm. Bridgeman Images, with 50 years of expertise, ensures an unprecedented level of detail previously unseen to the naked eye.
Stay updated on this monumental release by following ElmonX on social media: https://linktr.ee/elmonx
This extraordinary convergence of art, technology, and blockchain promises to captivate art enthusiasts worldwide, ushering in a new era in the appreciation and ownership of iconic masterpieces. ElmonX invites you to join the digital renaissance and become part of this historic moment in the evolution of art.